Our Organization
Gulf Galvanizing Industries (GGI) was established in March, 2006 and has been since then providing quality and reliable Hot Dip Galvanizing services to a wide range of customers in Saudi Arabia.
The vision of Gulf Galvanizing Industries is to provide its customers with highest quality Hot Dip Galvanizing designed to match their requirements and at the same time conform to international and local standards.
The Gulf Galvanizing Industries office and plant are located in the 2nd Industrial City, Dammam, Saudi Arabia and have been constructed on a total land area of 10,000 square meters.
Services & Guarantees
Knowing that the quality of technical assistance we offer to customers is one of our competitive advantages; we have always and from the start, based the relationship with our customers on cooperation, knowledge of the process and trust.
Gulf Galvanizing Industries is also providing advisory support on galvanizing design, scheduling and transportation as well as technical information on the characteristics and performance of galvanized coating.
To ensure customer satisfaction, Gulf Galvanizing Industries Coating Guarantee program offers warranties on its hot dip galvanized coatings for as long as 15 to 30 years.
Our Capacity
Gulf Galvanizing Industries is equipped with a modern furnace. Our kettle size is 12.5 m x 1.4 m x 2.0 m and has a design capacity of 20,000 MT per annum.
Hot Dip Galvanizing Process
Hot Dip Galvanizing is the process of immersing iron or steel in a bath of liquid zinc to produce a corrosion resistant, multi layered coating of zinc-iron alloy and zinc metal. The coating is produced as a result of a metallurgical reaction between the liquid zinc and the iron in the steel. This process has been in use since 1742 and has provided long-lasting, maintenance-free corrosion protection at a reasonable cost for many years.
Our Process
The three main steps in the hot dip galvanizing process are surface preparation, galvanizing, and post treatment. GGI has certified and reliable QC inspectors who monitor the entire process and conduct inspections from material receiving up to shipping. Product identification, traceability and the preservation of products are maintained throughout the process as shown in the figure below.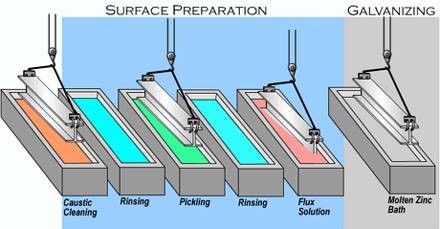 Gulf Galvanizing Industries has the capacity to galvanize articles ranging from nuts and bolts and any structures with complex shapes and sizes.
PROJECTS (COMPLETED)
SIPCHEM JUBAIL ACETYLS COMPLEX
SAUDI KAYAN PC, PP & PH PROJECT
HDPE YANSAB
BBTX YANSAB
T.R. INETEC-JU'AYMAH GAS PLANT EXPANSION PROJECT
NOOTER ERIKSEN S.R.L. FUJAIRAH PROJECT
RAS LAFFAN REFINERY PROJECT/QATAR
SNAMPROGETTI PROJECT